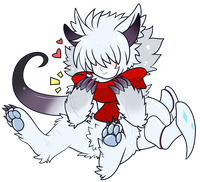 Profile
---
Basics
| | |
| --- | --- |
| Name | None |
| Species | Venos |
| Gender | Male |
| Orientation | Unknown (shy) |
| Occupation | None |
Quick Stats
| | |
| --- | --- |
| Charisma | ☆ ☆ ☆ ☆ ☆ |
| Kindness | ★ ★ ★ ★ ☆ |
| Integrity | ★ ★ ★ ★ ☆ |
| Caution | ★ ★ ★ ★ ☆ |
| Intelligence | ★ ★ ★ ☆ ☆ |
Physical
| | |
| --- | --- |
| Height | 8'2" |
| Build | Built, hidden under fluff |
| Fur | Pale blues and grays |
| Hair | Pale blue and gray |
| Spit color | Pale purple |
About
Gentle - Prudent - Silent - Weary
This large Venos is a wanderer along the frigid snow wastes-- a large area, bordering a lonesome outpost (where Sahir, another outlier, resides), and huge mountains. No-Name is a survivalist and used to being alone now, though he is a big softy and wants humanoids to spend time with more than anything... Unfortunately, they usually hunt him down rather than befriend him.
He has grown cautious around strangers, and even at times can be unsure around wild animals that can seem as sweet as he is. There have been many traps laid to conquer him that he has worked around due to his nervousness, which only plays further into his unspoken worries.
It truly could be said that No-Name is a good-hearted lad pushed into difficult circumstances because of his appearance. If he had it his way, he would be surrounded by those who accept and love him, living a cozy, harmless existence. For now, he wanders the snow wastes and their mountainous borders, keeping an eye on all that he considers his own, despite constantly being attacked by travelers of other species, those wishing to claim the icy storms their own.
He is of the mindset that he does not belong where he lives, instead sharing all that he does with other creatures that are smart enough to not attack him. He hopes someday to find those that would warmly share their lives with him in turn...
Traits and Rarities
Extreme fluff (SR), brute (R), brute claws (R), glow spots on tail (R), bright colored tail (R), mini perk ears (UC)
Likes
Kind-hearted humanoids
Harmless creatures, like rabbits
Prepared foods, especially potatoes
Dislikes
Hunter's traps and weapons
Greedy humanoids
Not understanding humanoid languages
Trivia
Rarely speaks, if at all. Often just makes noises
Only hunts and forages to eat in the wastes
HTML by Pinky