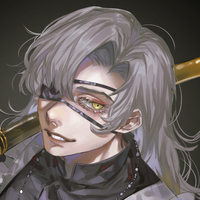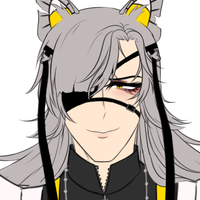 Valentine Adelaide (Valentine (Cheruby AU))
Profile
---
Name
Valentine Adelaide
Age
26 (at time of death)
Species
Cheruby (formerly human)
Sex/Gender
Male
Hair Color
Silver/Yellow
Eye Color
Gold
Orientation
Gay
Height
177 cm / 5'9.5 (he insists on stating the half inch)
Birthday
February 15
Zodiac
Aquarius
MBTI
ESTP
Location
With Aurelio, New York City area
Occupation
Retired Hitman
Voice claim
Image song
Valentine Adelaide
Most of his personality/etc. there applies to his AU version as well!
---
WIP!
"Boss. You know what it's like in heaven? Boring. None of the fun shit is allowed anymore, they just throw you out for it. I realized how much I missed being alive. It was especially dull without you to annoy... I really missed you.♡ So marathoning some 'things' to get back to you is fine, right..?"
Boss finally gets a dog! But it's not the one he wanted. F
He died via having a "good time". Y'know. Explains the scars.
He has a normal eye shape for basically committing every sin (speedrun WR 100%).
Definitely still exists to bother Aurelio.
Design is based on techwear.
Inner ear pattern resembles two eyes.
---
Voice claim: Ian Sinclair
---
Image song: Pull Up the Roots - Talking Heads
---
MYO slot (Impure) / Masterlist
Cherubies were created by BINGOISDYING and Neyoba.
His Cheruby AU version was created on January 6th, 2022.