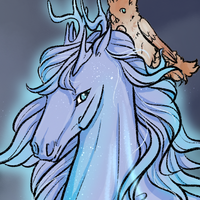 Basic Info
---
Regional Geno / Magic

Pyrokinesis, Hydrokinesis, Musical Inclination, Invisibility, Healing, Telepathy
Profile
---
Oldest of the triplets, but refers to himself as a twin. (He prefers not to acknowledge the existence of his other sister)
Outgoing, charismatic, sociable. 
Rather prideful, bordering arrogant. 
Was raised to be the Heir to Candentia, with the expectations for him made very clear from the day he was born. The original plan was for him to rule Candentia alongside his sister, Minuet, but after Minuet expressed her desires to not take over, after Radiance retired, Sonnet ended up being the sole heir. 
Keeps his telepathy hidden, with few quirlicorns knowing that he has telepathy. Most just assume he was born with five magics, and don't know about the sixth one he was born with.