GreaserDemon
1993 | Male ♂ | Mixed | Goth
Metalhead | Twink | Gay | Husb
Pagan [Heathen] & Theistic Satanist
About Me
---
My name is Rory-Addison, but I'm fine with any nicknames so long as they aren't purposely ill-intended. 
I also like batty nicknames a lot, since I'm a hardcore bat enthusiast, a lover of bat characters and I will most likely talk your ear off about how wonderful bats are at some point. I'm not sorry about it either.
If you're crediting me for a design, please credit me HERE, do not use my deviantart as a credit link!

▷ Previous usernames I went by on Deviantart: Link
▷ My characters are set to authorized only, heres why!
________________________________________________
Important Links:
About | Links | TH Info | Artfight!


INTERESTS
---
Bats! Demons, Witches, Monsters, Undeads, Deer
Horror, Macabre, Nsfw, Apocalyptic, Retrofutrism
Cryptids, Androids, Aliens (humanoid or monstery)
19th Century, Gothic Victorian, Norse mythology, Pagan religions, old languages, Mead, Beer/Ale Space

Gaming, Music, Tattoos, Piercings, Whiskey
Numetal / Metal / Metalcore, Rock (New and old) 
Electronica / Electric/Rave-mixed etc. 
20s-40s Swing/Classics, Oldies Metal & Rock/ Rockabilly and other 50s Classics
Zef, Chaphop, Nerd rap/Nerdcore
The only pop I really like is 70s-80s Pop
Commissions
---
Commissions
CLOSED (Except Pixel Art)
Cinna-CUSTOMS
ON HOLD - QUOTES OPEN
The fastest way to commission me is to dm me on discord! Since I am online everyday and almost all the time, at least via mobile. If ordering any kind of custom please specify if you'd like a Cinna custom or a regular custom. 
Most people tend to commission me Cinna customs so I assume that's what someone wants.



If you like my works and would like to donate, which is highly appreciated 
then donate to my Ko-Fi please and thank you! ♥
Adopts
---
I do not post adopts  constantly and customs are almost always open unless it's during months that have big holidays, then I'm moreso posting adopts than taking  customs, or I am offline preparing. I'll design any species, not just  cinnadogs, they  just fall under the regular customs tab.

▷ My Sell/Trade Specific account is (GreaserDeer)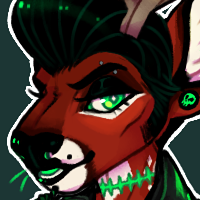 Roleplay
---
Feel free to hit me up anytime!  I prefer to write RPGS on Discord since I'm signed into Discord everyday and am online almost all the time. I may respond slow  sometimes  and depending on the month, I may be very busy but I will let  you know  before hand! Character friendship, relationship (family or  romantic)  linking is always open, just ask about whomever interests  you!
---