Howdy! I'm Aiden. I'm 21. (he/him-—I'm trans!)
If it's not obvious from my icon and username, I'm a furry, and kinda related to that, I like werewolves. I'm also really into vampires.
I ended up getting super reinvested in ATSB and now I have to develop like 6 characters at minimum right now.
Here's my commission info/TOS if you're interested.
I'm currently working on making at least all the characters in my ATSB folder have filled out html profiles, starting with the few characters that had properly filled out info. God help me
I'm totally open to talking; if you wanna talk with me, feel free to send me a message! I'm shy and might take a while to reply, though ówò
Latest Bulletin
---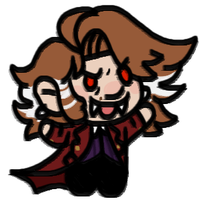 I've decided, 3 days after 2021 rolled around, that I have a soft resolution of making more friends! I'll certainly try to Be more social anyway hhdjddgs
So like,,, Lemme know if you want my discord ID and I'll PM it to you!
Recent Characters & Designs
---