Art Trades Human/Feral/Anthro (Open)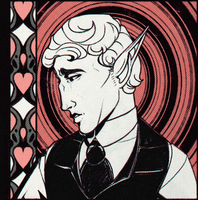 Open 2/4/20
-nekkidpi falt fullbody (sketched/waiting)


Howdy, I've been really craving some art trades of late.
Please note that it may take me a bit to finish my part due to work. I will provide WIPs, updates, and send PMs as I go though.
Trades do not have to be a straight across trade (i.e. fullbody for fullbody). 
Art Examples - TH gallery - dA gallery

Characters that I'm looking for art of LINK
Can Draw
Can Draw
- Humans
-Humanoids
-Monsters
-Anthros
-Ferals (hooved animals I might not be able to do a fullbody)
-Old/ Older People
- Different Body Types
- Masculine / Feminine
- Gore / Horror
- Can do designs that have nudity, but won't do lewd posing or do in a chibi style


Offering/Looking For
Offering
All of it will be done digitally
o - Fullbodies
o - Halfbodies
o - Headshots
o - Chibis
o - Icons
o - Shaded or Flat colours
o - Willing to do backgrounds

Looking For 
o - Fullbodies
o - Halfbodies
o - Headshots
o - Chibis
o - Icons
o - Pixel Art
o - Watercolour and copic marker traditional art
Recent Art Examples / Past Trades
yungvamp Thank you so much~ You have some pretty rad art yourself.  What kind of art do you want to trade?
TenMomentsTill I added two more >,< since i responded. But mitzi or unnamed would be ideal or any others and yes thats GOOD!
TenMomentsTill I can do Israfel full body, flat colored, dont worry about mtching the trade i just really love the design! edit: also take your time no need to rush or do constant updates with me