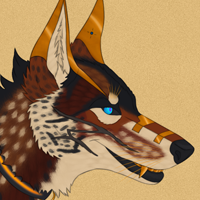 Basic Info
---
Pronounced

Dray-ker Roh-dree-guez

Nicknames

Drake, Lape, Defiant

Sex/Gender

Male (present)

Species

Dyre (aridus) / Vledyr

Anatomy

Anthro, on the feral side. | Czechoslovakian wolfdog and German shepherd dog.
Profile
---
Genetics: Mahogany red, pale undersides, dark streaks on back and tail, pointy pigeon mane, rough fur, slight nose bend. Genetically male (flatliner) from transition technology.
Other info: Societal status is Elite. Has several cybernetics, biowares, and body modifications.

First appearance: Not yet. | Last: N/A
Status: Unknown
Age: Adult / Unknown years
Born: 23 June
Interested in: Human, dyre | Homosexual


Family ties


Mother: Kathy Corazon
Father: Yves Rodriguez
Siblings: Pyrah
Love: Ekkeyn Vhellir
Offspring: None

District: Unknown
Role: Unknown


About
To be revealed.