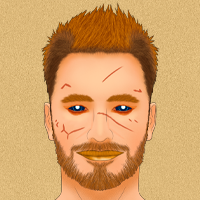 Basic Info
---
Pronounced

Eh-keen Vee-lirr

Nicknames

Ekky, Vee, Commander Cock, Shiny Boi

Anatomy

Modern hominid | North American caucasian.
Profile
---
Genetics: Light skinned, rough facial hairs, not a lot of body hair, and a bunch of engineering.
Other info: Societal status is Branded. Has several cybernetics, biowares, and internal body modifications.

First appearance: Not yet. | Last: N/A
Status: Unknown
Age: Adult / Unknown years
Born: 19 August
Interested in: Dyre, especially if vledyr. | Pansexual


Family ties


Mother: Unknown
Father: Unknown
Siblings: Unknown
Love: Drakar Rodriguez
Offspring: None

District: Unknown
Role: Unknown


About
To be revealed.