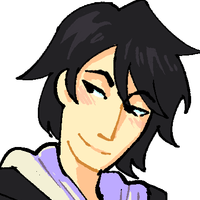 ---
He's barely been mean to her in their life, she has the same effect on him as she does on Haneul; they both consider her the best baby sister ever. He's only 3 years older than her (so in this universe she's 19) and while he spent most of his childhood with his mother, he still played a lot with Naomi and Haneul, and took care of both. That is, until his teenage years. Naomi was never involved in whatever Mamoru was into, but after he stole Haneul's identity online, she influenced Naomi into not liking him anymore. They still talked after that, but more online than anything, as Haneul would get in the way when they were at family gatherings. It was sad, but Mamoru figured he deserved it. But he knows Naomi doesn't hate him so he's calmer around her, and he has always had that ~mysterious~ big brother stance, and he's always willing to teach her stuff. He likes being appreciated by her like that. (In the magical girl verse he's supposed to always had known her secret, but it's vague as if he really knows it's magical or if he just humors her) In his current universe, they still keep in touch but he's realized Naomi is being just plain nice to him, and that she knows he's not a good influence, despite liking him as a brother. It's so heartbreaking he doesn't want to insist.
---
She didn't have any complex opinions about him, she liked him and he was an entertaining big brother! She didn't understand why they saw him so little in the year! But when they did, they played together and had a lot of fun. That was the same until he and Haneul had that incident, and Naomi knew it was a bad thing to do, but she didn't expect it from the big brother that she liked so much. She couldn't force herself to hate him like Haneul even if he did a bad thing. So she was careful, but she kept talking to him in secret from Haneul. She finds comfort in him, she feels like she can tell him things she can't tell Haneul. She knows both her siblings see her as a baby sister way too much, but Mamoru is a little less overprotective and more open to show her new experiences, and she likes that! She doesn't mind being the baby sister, but being babied all the time is exhausting. (In the magical girl verse, she doesn't know he knows her secret, and it was supposed to be an extra boss haha) In the sense8 universe, she's genuinely very busy, but also has become more mature. She's still the same kind girl, but now she knows why Haneul was so upset, and she finds she was kinda right. She's still wondering what made Mamoru do that...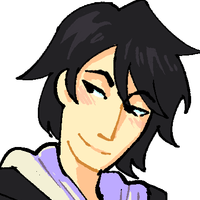 ---
They were good friends until Mamoru stole her identity online. Mamoru went through some rough times in his teenage years, and in a desperate attempt to gain back attention he took advantage of his closeness with Haneul and how easy it would be for her to get attention online as she was just very pretty, and it was a horrible move in general. It stained Haneul's reputation and she was extremely upset at him since then, she doesn't want to talk to him or think about him. Their family reunions are very awkward as a result and she doesn't go out of her way to make him miserable but sure as hell doesn't make it easy to be okay in her house. He knows he messed up, it was all messed up back then, he doesn't want to ask for forgiveness even if it sounds great. Even then, he felt somewhat good as a threat to her, because it made him feel important. He was very stupid for a couple years, honestly. He doesn't want to take it back because he doesn't feel like he deserves to be forgiven. After all of that, her hatred feels appropriate. They don't keep in contact, he usually asks Naomi or his Father how Haneul's doing.
---
Up to this day she feels extremely uncomfortable and lied to. She can't believe she actually TRUSTED him, all these years. She thought he could get better, she was helping him, but it was all for nothing. She doesn't want to see him, talk to him, talk about him, or anything regarding him. She doesn't want Naomi to talk to him either, who knows what he could do to her, if he was willing to do that to her... He did become one of the bigger threats of her life, and generally made her very uncomfortable for a couple of years until he... Stopped. She doesn't know what's up with that, but good.