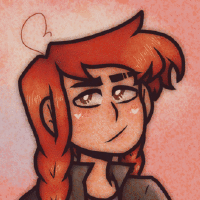 Profile
---
NAME: Skye Kennedy Foster
AGE: 20
SPECIES: Snake-human
BIRTHDAY: July 20
PRONOUNS: He/him but will occasionally use she/her online while posing as a girl, and also doesn't care if people use they/them, also typically online (and mostly because of his androgynous appearance). He is a biological male though
SEXUALITY: ???
HEIGHT: 5'11"
PERSONALITY: Skye is happy-go-lucky and full of energy. He is loyal to his friends and family, and is charismatic and good with people (as long as they don't find him too annoying). He does get very frustrated if things don't go like he thinks they should, for instance he is a known "road rager" and if he does bad at a video game he will unabashedly yell at the TV. Most of the time these fits of anger are pretty short and he cools off very easily.
ADDITIONAL NOTES: 
- Friends with Kyle and Max, and lives with them in a townhouse outside of campus.
- Has ADHD and takes meds for it 
- Is TikTok famous with over 500k followers. his username is @/snekbby
- also has an OnlyFans where he poses as a girl named Emily under the handle @/RxdHxadHottie . Basically he does his makeup and hair and wears flattering clothing items and due to the fact his facial structure is already very feminine he easily passes as a girl. People have connected his two accounts and theorize they are the same person but nobody has proved anything.
- Agnes is his sister
- works part time at a video game resale shop called The Game Place