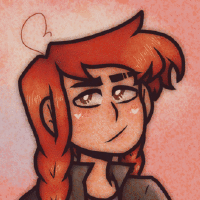 Profile
---
NAME: Skye Kennedy Foster
AGE: 20
SPECIES: Snake-human
BIRTHDAY: July 20
PRONOUNS: He/they
SEXUALITY: ???
HEIGHT: 5'11"
PERSONALITY: Skye is happy-go-lucky and full of energy. He is loyal to his friends and family, and is charismatic and good with people (as long as they don't find him too annoying). He does get very frustrated if things don't go like he thinks they should, for instance he is a known "road rager" and if he does bad at a video game he will unabashedly yell at the TV. Most of the time these fits of anger are pretty short and he cools off very easily.
ADDITIONAL NOTES: 
- He is in a gang with Kyle and Max, and as such is a criminal.
- Has ADHD and takes meds for it 
- Is TikTok famous with over 500k followers 
- Ages is his sister (estranged)
- works part time at a video game resale shop called The Game Place