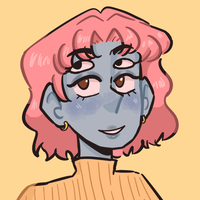 Profile
---
NAME: Andi
AGE: 20
SPECIES: Spider-human
BIRTHDAY: June 30
PRONOUNS: She/her
SEXUALITY: Straight
HEIGHT: 5'10"
PERSONALITY: Andi is skittish, paranoid, but very intelligent. She is very ashamed of the way she looks and kind of vain, so she hides herself away most of the time due to her "ugly" appearance.
ADDITIONAL NOTES: She is the girlfriend of Kyle, and a former member of the gang that he is in.