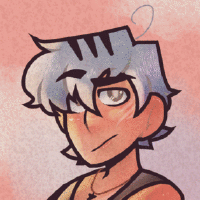 Profile
---
NAME: Kyle Owen Morris
AGE: 21
SPECIES: Shark-human
BIRTHDAY: September 10th
PRONOUNS: He/him
SEXUALITY: Straight
HEIGHT: 6'3"
PERSONALITY: Kyle is a hothead, kind of a jerk, but he does care about those close to him. He doesn't trust others very easily and has been pretty alone most of his life as a result. He is more intelligent than most, but not a genius.
ADDITIONAL NOTES: 
- He is a member of a gang along with Skye and Max, and as such engages in criminal activity pretty regularly. He is the boyfriend of Andi. 
- He is multiracial