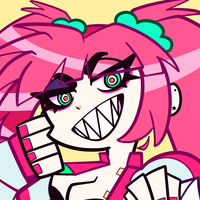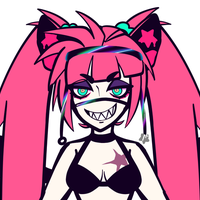 Profile
---
STAR-STRUCK FALLEN ANGEL
[DEATH | JUDGEMENT]
CAUSE OF DEATH - STRUCK BY VEHICLE
SINS - UNDETERMINED
---
"Nirvana is boring as hell! You make toooo much noise ONE time and all of a sudden you're kicked! 'Oooh, Priscilla, that's inappropriate' and "Oooooh, Priscilla, vandalism is bad!!' Like, um? How else am I supposed to get by backstage security. So stupid..."
---
Died on her way trying to sneak backstage at a concert after being struck by a car. Was promptly banished back to earth after it became clear her more... dangerously impulsive and occasionally obsessive tendencies weren't going to let up just because she died. If anything, having the opportunity to fawn over her beloved idols forever without risk made these traits more of an issue.
She uses her opportunity as a fallen angel to continue to party...and sneak into venues to meet her idols personally. After all, what's more romantic than being together forever? Especially when there's nothing standing in the way of a corrupted angel...
---
Closed species [Cheruby] AU
---
Likes
Chaos!! [Whatever that means...]
Idols and Fame
Rabbits
Pretty lights and city nightlife
Baseball [with violence]
Dislikes
"Boring" stuff
Rejection
Sticklers for rules
Tomatoes
Cars [but does enjoy smashing their windows in now]
HTML by Eggy