---
Howdy! I'm Lulu and this is where I come to store and swap wallet pictures of my beloved OCs. I swear I can draw serious things, I just really love MS paint doodles!!
Happy to chatter on about OCs, art, and video games. Soulsborne, visual novels, and Minecraft, my beloved...
---
None of my characters are for sale or trade!
Some of my characters contain NSFW content. All NSFW content is marked and labled in gallery. Bios themselves are non explicit and have warnings as appropriate.
Please feel free to ping me in forum replies! There's a 90% chance I'll never know you replied if y'all don't.
Jyuto Iruma is my wife. Stream MTC, y'all!
I once ate garlic bread off the floor of my car. I haven't been the same person since.
---
Main PFP received as a commission from
EG_botty!!
---
Latest Bulletin
---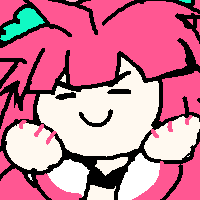 Updated my character tags so they're sortable now!
I've also finally added a few links to Benny, and will be slowly working on adding in more!

 

 
I adopted a design... LMAO. Never thought I'd do that, but I love her already... Currently working on making her a model in Vroid and writing her a profile!

Recent Characters & Designs
---