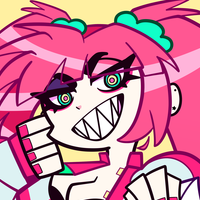 Profile
---
MC Name
Prime Time
Gender
Female
Birthday
Oct. 29th
Age
26
Sun Sign
[♏]
Species
Human
Orientation
Heteromantic Asexual
Occupation
???
Priscilla
Priscilla's profile is a WIP!
---
---
(Ф∀Ф) !!!
---
Aspiring (fanfic) writer and fanfiction aficionado, Priscilla spends most of her time reading and writing. Although whether or not she's actually any good at writing tends to vary to extremes depending on who you ask… Not a goal haver, just a fun seeker.
She'll read just about anything for one reason or another, and firmly believes there's no such thing as a "bad" piece of literature---but she really likes bad romance novels, which perhaps give her a bit of a warped perception of her own skill level. It might not be "good," but someone still took time out of their day to make and share it---and Priscilla thinks that in itself makes it worthwhile and is inspired to keep writing because of this. Would 11/10 pick up a book from the $1 bin with a title like "Super Seduction on Easter's Eve: Decorating Eggs in Another Universe with a Handsome Haunted Suit of Armor." without question.
Has a tendency to be rather brusque, overzealous, and perhaps sometimes a bit too chaotic, but she always means well... for the most part. Trapped somewhere between "chill and cool" and "energetic and scary" ... much like a shark... or "killer bunny," she'd probably tell you.
---
"So, like, what do you do for fun??"
---
Hobbies
Writing fanfiction
Reading
Chaos!! (Whatever that means)
---
Likes
Rabbits
Jyuto Iruma of Hypmic fame
Visual novels
Knights in shining armor
Knights in old, dingy armor
The concept of baseball (doesn't actually know a ton about how it's supposed to work...)
Lemon-lime soda
---
Dislikes
"Boring" stuff
Slice of life fiction
School settings
???
---
---
"Notes"
---
Perhaps due to her willingness to read... basically anything in the fanfic realm, her own typing quirks may come across to some as a little outdated or haphazhard.
Frequently uses ( o ⊰ o)♥ and (Ф∀Ф). Probaby too Frequently
Would correctly answer "Heck yeah" to the question "Would you smooch a ghost?"
Current PFP received as a commission from Suiran!!