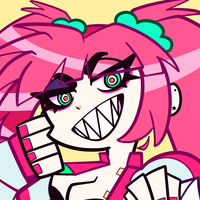 Profile
---
---
"(Ф∀Ф) !!!"
---
"History"
---
In a time where the world is filled with strife and violence, Priscilla is no stranger to either. In the city, life is more of the same, but why waste your days ruminating on the bad when life is full of pleasures? Take the strife and punch it in the gut. When life gives you lemons, start kicking ass. At least, that's what Priscilla would tell you… And she means it literally.
Aspiring writer and fanfiction aficionado, Priscilla spends much of her time reading and writing. Although whether or not she's actually any good at writing tends to vary to extremes depending on who you ask… Together with her best friend Beatrice, she dreams of making a dating game filled with violence, action, and romance the likes of which the world has yet to see...
She'll read just about anything for one reason or another, and firmly believes there's no such thing as a "bad" piece of literature---but she really likes bad romance novels. For better or worse, not everything she enjoys might be "good," but someone still took time out of their day to make and share it---and Priscilla thinks that in itself makes it worthwhile. Would 11/10 pick up a book from the $1 bin with a title like "Super Seduction on Easter's Eve: Decorating Eggs in Another Universe with a Handsome Haunted Suit of Armor." and enjoy it without question.
"Personality"
---
Priscilla has a tendency to be rather brusque, overzealous, and perhaps sometimes a bit too chaotic, but she always means well... for the most part. Trapped somewhere between "chill and cool" and "energetic and scary" ... much like a shark... or "killer bunny," she'd probably tell you. Sometimes, violence is the answer!
There is little in the way of rocking her confidence and determination… for better or worse. She is incredibly headstrong and often rushes into things without considering her options. To some, she is intimidating, to others… probably just a little crazy. Either way, she doesn't mind. When there's a fight to win, she's gotta win it.
Despite everything, Priscilla is kind hearted at her core, and her passion and excitement are her main driving force. She wouldn't hesitate to help a friend in need or give an enemy a boisterous pat on the back. After all, tomorrow is a new day.

---
"Notes"
---
When typing, Priscilla tends to often come across as a bit haphazard. She frequently uses ( o ⊰ o)♥ and (Ф∀Ф). Probably too frequently.
When out on the town on an "adventure," Priscilla uses the name "Prime Time." Most people who have ever been in a fight with her on the street know her by the name. She also uses this as her pen name when writing.
Has a baseball bat covered in pink bunny stickers. Sometimes it's for baseball. Sometimes it's for violence.
Story does not take place in the Hypmic universe, but she is sometimes shipped with Jyuto. Hypmic is real in every universe and Priscilla is a queen who knows what's good. Ship yourself, girl. Go off.
Hobbies
Writing fanfiction
Reading [Comic books, fanfic, ...trash]
...Baseball?
Chaos!! ...Violence!? (Whatever that means)
Fears
Priscilla fears no man nor god
Insects.
Likes
The concept of baseball (doesn't actually know a ton about how it's supposed to work...)
Rabbits
Otome games
Big jackets
Knights in shining armor (and knights in old, dingy armor)
Melon soda
Dislikes
"Boring" stuff
Slice of life fiction
Bossy people/being bossed around
Children
---
Priscilla and Beatrice met as young teenagers. They went to buy the only volume left on the shelf of the same dating sim. The two girls proceeded to have a loud argument in the store, which quickly changed from being about buying the game… to just being a heated and passionate discussion about the game itself.
Too zealous to get under control, the girls had to be thrown out of the store. They continued to talk and hung out for the rest of the day—bonding over their favorite things and similar energies. The two have been best friends ever since, and with Priscilla's writing and Beatrice's art, they dream of one day making their own dating games together.