yuu
235 Blasts 86 Re-Blasts 5829 Comments
ABOUT
came to find out, instead i fucked around.
Location

East Coast

Homeland

West Coast

Birthday

7 July

Joined

3 July 2015
204 Followers 252 Following
yuu
and to think, the only reason i decided to downsize a bit was because i realized i was gonna have to write hundreds and hundreds of wiki pages for everyone. ahaha. no thank you. i'll just keep my babs and see everyone else to a new home hopefully.
#rehoming #codingwoes #ocsforoffer
6 10 2
Refresher
Congratulations, it just took you how many years now?
Courageous Citizen Award Recipient
#sangnam #how do you even ship name them?? #god they're so in love
400 5630 20
A Certain Thief
aww they're adorable &heart;
jubjang
AAAAAH KID-NIM COMMENTED ON OUR PIC
#everyone knows this one #cruel angel's thesis #will i ever watch eva
130 30 3
yuu
Fellow "never watched Evagelion" team member!
Ride or Die
HOW IT'S BEEN OVER 25 YEARS
#where is my tantei-kun? #actually no where are ALL my detectives at? #praying that this summons them :D
1412 1412 1412
One Truth Prevails
....do i even want to know how you make it always show 1412 for your interactions you stupid thief?
Kyuubey
If you make a contract with me I'll tell you the secrets of the universe.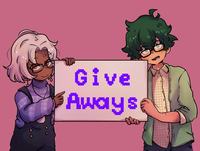 Character Code # 20500359

SCUM VILLAIN SWEEP
Date -74
Somehow a series yuu only joined back in july has ousted Avengers, Yuri!!! on Ice and YowaPeda on her ao3 bookmarks list.
OLDER ISEKAI RULES
Date -345
Isekai series with older protagonists are on the rise, with the likes of Fabiniku, Isekai Ojisan, and Tondemo Skill becoming fan favorites.