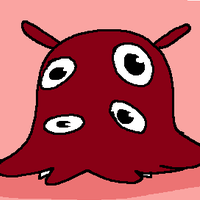 Profile
---
Gender
Female
Birthday
Unknown
Age
Baby
Species
???
Bitey
Bitey's profile is a WIP!
---
---
---
Benny and Hugo's "adopted daughter," as Benny likes to refer to her---much to Hugo's initial horror.
Her origins are unknown, and Hugo found her alone and whining near the site of his last slaying under the employment of Knight Company Captains. Assuming the mother was caught up in the chaos, he claims a sudden pang of guilt is what led to him "not thinking" about taking her home and asking Benny to identify her.
Benny was unsure about the exact nature or type of monster Bitey could be, and Hugo began having second thoughts. He demanded that Benny return Bitey so he could "take care" of her like he felt he should have done in the first place, but Benny refused and quickly named her, much to Hugo's horror.
Reluctantly, Hugo agreed to let Benny keep her around, but only as long as Bitey proved to be safe, and only under the condition that Hugo stayed around at all times to make sure Benny could handle her.
Despite Bitey's frenzied nature, she responds well to Benny and Hugo's care. She can be difficult to read, and, as much as Benny would like to argue otherwise, she is not truly tame.
---
---
Likes
Benny
Being on top of objects [she likes to be tall]
Biting things
Hugo…? [Sometimes]
Fish [Eating/watching]
---
Dislikes
Being held [Unless it's by Benny]
Being restrained
Being dressed up
Things near her eyes
---
Fears
---
"Notes"
---
Although Benny insists Bitey is carnivorous and should only eat meat, Hugo will occasionally secretly slide her a random food item to see if she'll eat it. She specifically has seemed to like Goldfish crackers. Whether that's because of the crunch or the fish shape is unknown. Bitey has never become ill or suffered any adverse consequences from eating these food items.
Because she is young, she is more likely to respond to things she perceives as threats by haphazardly biting without much warning, and she is not yet able to control how hard she bites down.
---
"Relationships"
---
[Wip]
---
[Wip]
---
HTML by Eggy