Profile
---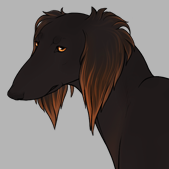 Personality
---
Atreyu is a very happy good boy. Highly intelligent--more so than dogs typically have the ability to be--he is well trained and deeply loyal to his master and the rest of his pack. Despite being the size of a horse, Atreyu (or "Tre") acts like a typical dog, gets up to typical dog antics, and sometimes seems to think he's the size of a typical dog, too.
Pronunciation ah - TRAY - you
Pronouns He/Him
Race Cautican Hound
Age ~2 years
Height ~4'8" at shoulders
Don't Draw Them
---
Too small, or built too thickly; he's the size of a horse, but otherwise has the physique of a saluki dog.
Notes
---
Atreyu is a Cautican hound, a desert breed that has been specially cultivated to be versatile working, sport, and companion dogs the size of horses. Due to being a desert breed, his coat is fine and lightweight, and his lack of dense muscle mass allows him to run over long distances without overheating (so the slightly "bony" look of sighthounds of that nature is normal and healthy in many cases!). Atreyu, specficially, is black with rust-orange points and soulful, pumpkin colored eyes. He has a regal tail and matching ears that sport longer, flowing fur almost like hair.
Links
---
RELATIONSHIPS
---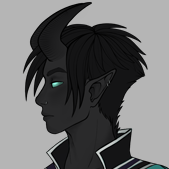 His owner and bonded person. Atreyu loves him fiercely and is deeply loyal to him, willing to staunchly protect him if ever it becomes necessary, despite his usual carefree goofball antics.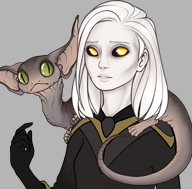 Kaleva's best friend and housemate, and so part of Atreyu's pack. Skena has a way of being the "fun parent" and occasionally, lovingly, sabotaging Kaleva's leader position by encouraging Atreyu to fuck with him.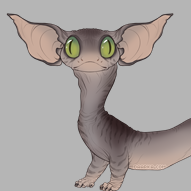 Atreyu considers Gummy a friend and part of his pack. The sentiment is not reciprocated.
Owner: Dakota - I host my bestie's characters on this account with his permission; I love seeing art of them, too!
---