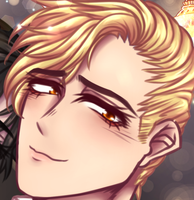 Profile
---
Gender
Male
Birthday
March 5th
Age
28 [as of 1934]
Sun Sign
[♓]
Species
Human
Orientation
Gay
Occupation
Freelance Writer/Detective
James Free
James' profile is a WIP!
---
Dating a vampire and is madly in love with him despite the fact this dummy is afraid of blood and nearly passes out when he sees it. Works as a special unit on call detective for a magical monster police department because his adopted father asked him too, but James doesn't really wanna. Would prefer to stay at home being bitten by boyfriend and writing novels. People think he's smooth and cool, but he's really a hot mess. Polite and a little fragile, but would absolutely never say that. He's cool, after all.
I promise this will be serious later
Current PFP drawn by IIDX!