Hello! I draw, design, animate, write and plan stories. I also dabble in music and game making but I'm usually too much of a scattered mess to finish any big project. My characters and stories are the driving force in my life, my hopes and dreams and motivations if you will, or my free time burner haha. Most of my socials are listed on my DA and artfight linked below!
Asexual demiromantic, she/her, infp/intp
My deviantart : http://xfumikux.deviantart.com/ 
Participating in Artfight! https://artfight.net/~FuuMiku 
My art shop/commissions: https://toyhou.se/~forums/71.art-marketplace/138218 
My multi-use art freebie thread: https://toyhou.se/~forums/7515.art-freebies/127492
I also write fanfics once on a blue moon, you can check out my ao3! https://www.archiveofourown.org/users/Fumiku/profile
Goes without saying but, don't copy, repost, trace or use my characters in any way without my clear permission. Some bios do have a bit of sensitive content, but I never go in details about unpleasant stuff so it's usually not enough to get triggered, at least not when the profile or character doesn't have TWs. I am subject to gushing & rambling in characters profiles, to some baby talk, and all caps keymashes tho so if that grates u, you have been warned. Hope you enjoy your tour!
I'm rather intolerant towards rude people. We can talk our differences out like civil people if need be. It's all about good vibes babey ✨
I rather get refusals than being ignored! I appreciate answers to pms and such, otherwise my anxiety spikes.
I love all my babies! Even if you don't see me do it, I think of them, write and make stories and headcanons for them, gush about them to friends~ I have a lot of projects I do plan on making one day, but I also have some ocs who have more of a personal use purpose. Everyone has a place, esp with all the story roles I need to fill. In any case, the characters that don't fit well enough anymore, I actively try to find them better homes! They are those in the rehoming folder, in which you'll find more information. Feel free to offer on anyone, though if not even tagged as eo abandon all hope.
Retired tag are chars that have achieved their purpose/aren't being used and prob won't be again, while inactive are more those that are on standstill but there's less of a permanent tone to it. I might doodle them still and use them like that, and I sure do love them, but stuff ends(in the case of retired ones dw lol) and there are chars I want to(or unconsciously do) focus on more than others.
I have lots more of ocs I created irl in some sketchbooks and my head, I just don't feel like posting them. If I ever dump a lot of ocs on here suddenly, it's prob me cleaning up drawing piles and recording things. Toyhouse is great to keep track of characters in stories and more.
I've currently risen to designing for fun with friends paradise on a discord server so I've begun to appreciate getting new designs casually and it's been really nice! Though I am slowly becoming pickier and pickier with characters in general, I overthink every single adoption smh. I really don't see it as a min or max number of ocs though, possibilities are endless and I'll never not seek out more. The more ocs the less likely I am to be seriously suicidal, probably.
Note that the picture below is very old and at the time contained all my ocs, now some of them I've traded away, and I got a bunch more~ But I still keep as banner bc nostalgia
To do list: 
School stuff
Tenko comic
Day 43 illustration (for myself)
"Levi I'm getting married!!" Illustration (for myself)
Other things to do with minor priority or on standstill:
 Empty.
Awaiting character from
Ruecifel
for finished art.
Latest Bulletin
---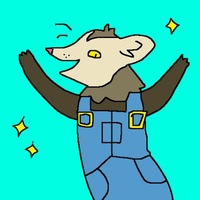 Ah yes, the desperation gdhcbch. This is a list for longtime dreamies I've been unable to get whatever and however much I offered. I've talked to the owners listed here about three ways and they agreed to receiving three ways offer, dw about that. They're also all ufo characters, no eo ones or for who getting offers is more taboo-ish. You can check in with me before offering or talking with me about it only after you've offered and they've accepted. They're picky with what they'd agree for so I don't expect any one to offer them something they'll like, don't feel bad if you don't. But also pls only offer if you think you actually have something they could be interested in.
SCREAM NONE ATM MY BFF IS A GEM
Recent Characters & Designs
---