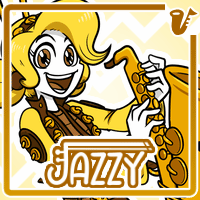 Basic Info
---
Personality 🎭

Determined, Friendly & Extroverted

Likes 💕

Brass Instruments, Parties & Fluffy Animals

Dislikes 🗑️

Soap Operas, Puzzles & Insects
Profile
---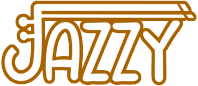 Jazzy is a character of ours in Jazzy Beats from us at Whales And Games!
Being a fan of all-kinds of musing since young, Jazzy practised brass and woodwind instruments for years growing up, hoping to become a jazz music idol, inspired by many of the idols of her time.

Despite her talents and flexibility playing several different instruments (most iconically the saxophone and trumpet), she struggled to find an opportunity to make her debut, making her take some several side-gig as a bouncer given her considerable arm-strength gained from years lifting up the saxophone. When she accidentally punched another idol at one of those side-gigs, people mistook her as a competing idol, and she raised to fame as a result.

Immediately picked by a label, Jazzy is now the latest idol and newcomer to join The Great Idol War, a turf-war of idols seeking to increase their fandom over the city, and which normally leads to physical-musical competitions and fights between idols. Fitting, since she also knows how to really pack a punch beyond just her music.

Beyond her love of brass instruments, Jazzy also likes partying, and has a soft-spot for fluffy animals. Growing up to the rhythm of the music though, she finds soap operas antiquated, doesn't like spending time solving puzzles, and can't stand insects.