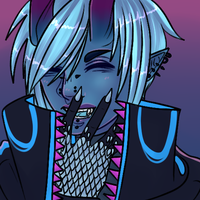 Profile
---
Gender
Agender (they/he/her)
Home
Skaia, formerly Neverland
Alignment
Chaotic Neutral
Emotion
Calm, Mischievous
Likes
Bubble Tea

Local Legends/Cryptids/Scary Stories

Mispronouncing words to annoy people (specifically Vex)

Fantasy Novels

Physical Affection

Mysteries
Dislikes
Limitations

The concept of fate or destiny

Soup

Closed in spaces

Pineapples

Overly bright/cheerful places (they feel fake).
Skills/Hobbies
Excercising (cardio, yoga, core workouts)

Beatboxing

Stargazing

Collecting small 'shiny' objects

Swindling in card and dice games

Essokinesis, Chronokinesis, Gravikinesis, Magic
Trivia
Gray's magical abilities seem to be an innate part of their being and is heavily tied to their emotions, specifically Love. The stronger the emotion the more powerful their magic, and the longer they are capable of channeling it at any given time. Their magic is not without limits, they are at high risk for burnout which can last from anywhere between 5 minutes to 5 days. This affects their magic as well as their own mental health, often making them feel very drained emotionally until they have time to recover.

Vestibulum auctor dapibus neque.

Nunc dignissim risus id metus.

Cras ornare tristique elit.
Appearance
Gray is tall, slender and athletic with visible muscle definition on their arms and two pointed, expressive ears. They have two horns that sprout up then curve backwards, starting a couple inches above the eyebrow. The color starts out dark blue and fades into a reddish purple. They have a medium length tail that is blue like their skin, but on the underside of the tail to the tip is aqua-colored fur similiar in color to their hair. Their legs are long and ending in digitigrade feet with three toes each, equipped with powerful, sharp black claws. Their teeth are large and sharp and their jaw is cable of unhinging to allow their mouth to open wider like a snake.

Skin: #487FAD

Eyes: Sclera: #BE568D Iris: #E19FBE

Hair: #7FD0EE
Personality
Empathetic . Persistent . Self-Sacrificing . Spiteful
Gray is a very laid back individual, tacking surprises in stride and seeing obstacles as interesting and fun challenges to overcome. They are competitive by nature and unable to turn down a challenge, finding immense joy in finding creative or interesting ways to win. Due to this, they are the 'brains' of the group, their creative and decisive nature paired with their stubborn refusal to accept defeat tend to put those who come to rely on them at ease. Mischiveous by nature, they enjoy teasing, confusing, or stirring up general chaos - playfully, just for fun. They have their own moral code they follow and have limits to what they consider 'fun, playful' chaos and going 'too far', what those limits are, however, only Gray really knows.
They are not one to easily given into despair and seem to be willing to accept the consequences and view the situation as a learning experience. While defeat leaves a bad taste in their mouth, they use each failure to grow and adapt for future scenarios - ...except they can be a sore loser when it comes to board games. On the rare occasions that they do let despair in they can find themselves stuck in a spiral and will rarely ask for help; however, they are quick to accept help if it is offered. They tend to self isolate and try to withdraw from the world - but bringing them back around is usually fairly easy.
Gray keeps themselves rather guarded, eager to make new friends but terrified of being rejected by them for things beyond their control. Due to this, they can be a little quieter and will let other people do the talking for them as they hang back and watch. Still, it does not take much to break through that guard. Kidness, acceptance, and affection can win Gray over very easily - despite their best efforts to be careful. They are incredibly empathetic and quick to notice and become attached to people that they sense a similar loneliness in.
They have very little regard for their own safety, thriving in the dangerous situations they recklessly throw themselves into. Their own life means very little to them in comparison to the lives of the people they love. As far as they are concerned there is absolutely no price too high to pay to make sure their loved ones are as safe and happy as possible, even if it means sacrificing their own happiness or goals.
Story
Once upon a time there was a very happy couple who considered themselves to be very lucky, they had everything they could want: A warm home, multiple close friends, good jobs that paid them enough that they could live comfortably, and each other. The one thing they did not have, the one thing they felt they were truly missing, was a child. For years they tried and sometimes they would get close but tragedy always struck. Rumors would later spread throughout town that the couple, in their desperation, turned to...darker means to obtain their child. Some say they spoke with the Fae and others would swear that the couple made a deal with a dark entity. Their closest friends, true and kind as they were, would deny these accusations and call them far-fetched tales from those too bored in their own lives. Regardless, the couple got a child but were horrified by it's appearance: slate blue skin, glowing eyes, horns, and clawed hands and feet. A curse. A demon. In their horror they sought to do away with the creature, put it and themselves out of the misery that would surely become of this demon's existence - but every attempt failed and the babe would turn up again safe and sound in it's crib and eventually the couple gave in to fate. They tried to keep the child a secret but it was soon discovered and the truth spread quickly throughout the town. They were ruined.
The child grew older, their horns and claws growing longer and sharper no matter how many times it's parents attempted to file them down. When their teeth finally began to grow in they were large, long, and sharp. These too, the couple attempted to file and later extract - but the next day the teeth would be back just as big and dangerous looking as ever. The child understood that it was a monster and for it's part tried to make it's parent's lives as easy as possible. It hid away in the attic and was loathe to be near windows, but this was a lonely existence.
Eventually, the child began to show signs of magic - something it kept secret from their parents, horrified and furious that there was yet something else that made them different. They just wanted to be like everyone else. To look normal. To be normal. One morning the child woke up to discover that their hands weren't blue and the nails that sprouted from the ends looked like their parents. Elated, they rushed to their parents room to wake them and show them but at first this only seemed to upset them more and that rejection shattered magic that held up this new form. They decided to work harder to understand their magic, practicing keeping up the appearance of a normal human for longer and longer until they were able to better control the magic. Once more, they showed their parents and once again they were rejected - but the magic held, but they were optimistic. They could remain in this form and their parents might finally smile again like in the pictures that hung from the walls.
Weeks passed before the couple finally started to accept the child. then months passe and they began to introduce them to their friends and to the town. It had been a curse, that was all, a curse that was now over. The town was huge and new and terrifying but in a way it was also exciting. What most excited them as that finally they could meet the children they would hear playing from the the attic - but at that age children could be cruel and tormented the child that had for years had been whispered about throughout the town, used as a way to scare young children into behaving and eating their vegetables otherwise the blue demon would eat them up, and once again the magic shattered.
When the child was finally able to escape they ran home only to discover the warmth that the couple had slowly begun to show had soured and once more was icy. They punished the child and locked them away in the attic and this time the child was content to give up and remain. Food was left outside the door as well as books, the couple too afraid to attempt to starve the child or leave them bored to discover new ways to torment them - so the child puzzled over the books, the magic that ran through their veins like blood enabling them to slowly pick up on words and understand the books they were given. The books became the child's way of escape. They could go on grand adventures with children their age, hear about amazing heroes in armor who fought dragons and rescued princesses. Their favorite story was one that told of a ageless forever-boy who could fly with the aid of pixie dust and happy thoughts. They longed for this boy to come to their window, boarded up as it was, and take them away to Neverland.
One night, the child's wildest dreams came true. They woke to the sound of splitering wood and the sound of soft feet landing on wooden floors. When they had the courage to open their eyes they saw him, illuminated by the soft glow of the moon, a boy about their age in green with wide curious eyes and a confused smile. They talked for what felt like hours and eventually the boy suggested that the child come away with them to Neverland, where there weren't dusty, dark attics - where they could keep playing and never grow old - an offer that the child immediately took. The boy asked only one thing of them, that they try look like a normal boy - at least for the introductions, as to not frighten away the Lost Boys, a request that the child was more than willing to abide. The boy, Peter Pan, was true to his word. He spirited the child off to Neverland where they met the Lost Boys, received a name - Hush - and for the first time in their life made friends.
Neverland was their first real home. Days were spent playing and nights were filled with games and stories before sleep inevitably overtook them. Time was meaningless in Neverland and before long Hush couldn't remember the faces of the couple that had bore them - a fact that brought them a great deal of peace, for if they could not remember then surely their parents could not remember their face either. Eventually Hush began to grow restless, especially when strange shadows with glowing yellow eyes began popping up here and there causing mischief. It was then that a stranger by the name of Auro came and after dealing with the strange shadowy beings and many hushed late night discussions left with Hush.
The child was taken to Auro's home, a temple located in the mountains of Skaia, and it was there that the child lived and began to grow older. They chose a new name for themself, to make this new chapter in their story, Gray, and with Auro's help began to further develop their magical capabilities. Things were good. They were happy. They only grew lonely when Auro would leave for short periods of time to hunt down more of those shadows, 'Heartless', as Gray would later learn. It was in those lonely moments exploring the temple that they lived that their mind would drift back to Neverland and the family they had parted with there. But, Auro always returned and on two different occasions returned with someone.
The first was a boy about Gray's age, an elf with pink hair that looked as fluffy as the clouds. He spoke little of his home, but would get sad and haunted looks whenever it was brought up. Gray could accept this, they did not enjoy thinking about their own origins either. This boy named himself Vex and thought that Gray's giant teeth and short little tail were 'cool' and made them look 'cute'. The two were inseperable. Gray showed him all of their favorite haunts in the mountains and all the best places to play within the city, and which food stalls would add a little more sweets or food into their to-go packs.
The second boy was younger by a few years, scuffed and bandaged with wide and innocent eyes, a fluffy fox-like tail, and little fox paws. This one called himself 'Quinn', a fox spirit, who once lived in a shrine within the bamboo forests outside a small town. The heartless had overrun the bamboo forest by the time Auro showed up, the town almost completely laid to waste, all that remained was Quinn. Gray immediately took the young fox-spirit under their wing, calling him 'little brother'.
Gray's small family was growing larger, so large that the lonely hole in their heart was filled with the love and acceptance that they received.
Days were spent in lessons of magic, combat, or history on Light and Darkness, afternoons were spent together storming the town or playing in the mountains. Life was good - until things started to get...weird. It was like time was repeating itself, a whole week, over and over again. The first time Gray thought they were just imagining things, deja-vu, but conversations, lessons, surprises - Gray could 'guess' what would be said or when something would happen seconds before it happened. This continued for what surely must have been a month when the nightmares started and then another month passed before Gray could remember the nightmares. Bits and pieces at first, of being in the Cave of the Ancients, in the innermost chambers with wind like the screams of the damned around them and at the center was Quinn - next to a unknown figure - and Vex rushing forward.
When the nightmares finally began to remain in Gray's memory even after waking, they went to Auro who they hoped would know what to do. They explained the 'deja vu' and insisted that the dreams had to be more than just a dream, it felt real, it left them afraid and raw and tired in a way they had ever experienced before. Gray couldn't tell if Auro fully believed them, or if he simply believed that something was happening, but the man began to look into things and Gray was relieved because it seemed that at last the cycle was broken...until Gray woke up one morning trapped at the beginning of the cycle once more.
Gray learned that the cycle was over a week's time. A single week until they lost everything, something they knew to be true in their heart. Once again, time became meaningless and Gray lost track of how many cycles passed of them working with Auro, struggling to catch the older man up on everything and then trying to figure out the truth but at a certain point it seemed like Auro kept hitting a dead end. Gray began to withdraw from their family, consumed by the need to uncover the truth and prevent the cycle from continuing - to prevent their family from dying. During one cycle Vex approached them, concerned that he had done something wrong it seemed like Gray didn't want anything to do with him or Quinn anymore. Gray caved almost immediately, that loneliness eating away at them once again, and it all came rushing out. Once again they couldn't tell if Vex believed them, but Vex held them tight as they cried and promised that it would be okay - that they could figure this out together. Unfortunately, the loop was not broken and the week started again.
Eventually, Gray stopped trying to explain to Auro or even to Vex what was wrong. It took up too much time, it was a distraction and as far as Gray was concerned Auro was tapped out as a resource. This was just something they would have to continue figuring out on their own. The final cycle, as Gray would eventually call it, started out different from the beginning. Instead of waking up to the soft knocking on their bedroom door of Auro calling them for breakfast, Gray was woken up by Quinn pouncing on them from what had to be the top of Gray's bookcase. Auro had left early, something had come up. That day was spent in Auro's study trying to find any clues as to Auro's location, or at least what had made him leave, and by mid-day he found a letter signed by 'N' - a message saying that something was wrong. The stars were going out more frequently, an apprentice was having troubleing dreams, and 'Ophelia' visited recently and said some concerning things about plans to extinquish the 'hearts' of worlds. With the words right there the rest of the week, the final day, that always seemed to be fragmented in their memories, finally pieced itself together. They would be prepared this time.
On the final day Auro had left early once again and after breakfast Quinn slipped off on his own before Gray could stop him. Luckily, Gray was able to spot and grab Vex before he could go off as well. He tried to explain that they needed to go into the Cave of the Ancients - something bad was going to happen to Quinn and they needed to try and stop it. Despite Vex's confusion, he took off with Gray into the caves - unfortunately, things were out of order and once again it seemed like they were too late. The whispers that typically filled the cave had turned into ghostly wails and the deeper they moved through the tunnels the darker it became. When they made it to the central chamber it seemed as though they were not alone - the chamber was shattered into pieces and on a lower level they could make out a group of people but they didn't focus on them for long. At the center, right by the Heart, the power that kept Skaia afloat and thriving, was building in power. The once gentle wamrth that radiated from it had turned cold as it blackened and thrummed with magic it could no longer control or contain. A figure was there, a woman in a black cloak, grinning triumphantly, and Quinn, cowering beside her - too afraid to move. Time seemed to slow, but so did Gray's mind. They saw as Vex began to rush forward, calling out Quinn's name. They saw their own hand reaching out to grab onto Vex, could feel their legs numbly begin to move to give chase when the Heart collapsed with the force of a dying star. All at once time seemed to speed up once again and Gray had just enough time to focus all the magic at their fingertips and all their will and extend it towards their friends - then things went black.
Engulfed in what felt like ice cold water Gray was suspended - no - they were sinking. Their limbs were numb and heavy dead things, useless, as they hurried Gray's descent. Who knew what waited for Gray at the bottom, a monster, maybe? With open jaws hungrily waiting for them to get just a little closer so it could snap them up - or maybe there wasn't a bottom. Maybe it was just nothing and Gray would sink eternally, but Gray didn't care. They couldn't. Pain had consumed them, filling their ribcage and threatening to collapse in on itself in an all too familiar way.
They had failed, again, and this time it was over. No do-over's. Gray was certain that this had never happened before, surely they would remember this darkness, this pain. They shuddered, gasping for air but water filled their mouth and their lungs - so cold it felt like claws made of ice gripping and shredding their insides but they did not drown. They struggled, trying to will their useless limbs to move - to claw at the rolling waters around them and swim to the surface - but when they opened their stinging eyes all they saw was darkness all around them. They choked as more of that black, icey water forced itself down their throat amplifying the desperation and the ache in their chest. This was the end. It was over, but slowly the hopelessness of the situation became too much and a switch flipped somewhere inside of Gray. Maybe it was the fact that as Gray frantically searched for any indication of which way was up or down they realized they were alone. They had been certain that their magic had reached them and yet...Gray was alone, no sign of their friends around them. They were furious. They were furious that their arms wouldn't work, that they were somewhere here - deep underwater and that maybe, just maybe Vex and Quinn were somewhere else. That must be why the loop was broken, it wasn't over yet. It couldn't be. Vex, they figured, would probably be fine - but Quinn? He hated being alone and he was still afraid of the dark - what if he as out there somewhere, alone?
Snarling, strength began to return to their limbs as they searched. There had to be a light, there had to be - something to guide them where they needed to be and sure enough, just as the thought of a light crossed their mind, they saw it. It was so dim, but it was something. Gray was not dead yet and through what could only be determination and spite, Gray clawed their way towards the light. The closer they got the brighter it became and the pressure in their chest changed - instead of a ice cold pain collapsing on itself there was a tug. At first it was barely noticible, but the closer Gray got to the light the more it seemed like whatever was tugging at their chest was what was pulling them through the rolling depths. Finally, they were approaching the light at an almost alarming speed until finally they broke the surface. The air they tasted was empty, bad, but better than the water. At one moment they were struggling to tread water and the next they were crawling through shallow waters and onto a grey sandy shore. Gray coughed until what felt like gallons of water emptied out onto the sand - black water that appeared to steam with black tendrils.
Gray had little time to gather themself after that. They barely had time to process all the 'water' that they had coughed up because they were being tugged again. At first it was as if someone had grabbed onto them and pulled as if to get them to stand, and then it was just this growing sense of dread. That same sense of dread they would get whenever Quinn would tug on their shoulder to wake them after a nightmare. Without a second thought or a look back at the ocean, Gray ran. Sceneary passed them by and they took little notice, everything was almost too dark to really see anyway and besides - they didn't need to see to know where they needed to be. They ran until they were finally where they needed to be. It was hard to make out the scene, glowing yellow eyes attached to shifting forms of animated darkness were harassing another shape - small and foxlike but made of darkness. It was huddled on the ground, curled up and crying as the shadows rounded on it again - but Gray was faster. The magic came freely to them, burning in their veins and reacting to the anger and the urge to protect that kept Gray moving, pressing in on what they knew to be Heartless until they were either destroyed or fled and Gray was left alone with the fox made of darkness. The creature flinched when Gray reached out and while it growled attempted to bare its teeth at Gray it did not attack even when Gray pulled it into their arms. There was absolutely no doubt in their mind that this was Quinn. They could feel it in their heart.
"Shhhh, it's okay Quinn. I've got you. It's okay, you're just having a bad dream."
Gray held onto Quinn tightly, rubbing his back and talking to him until the fox-like shape started to give way and they could feel a body inside, and then eventually felt small arms tighten around them. Without thinking, the magic sparked around Gray once more but Quinn did not shrink away, he just held on tighter as his sobs quieted and he was breathless and sniffling. The darkness fell away from Quinn's body s the magic surrounded him and then he was gone and Gray was alone there in the darkness. They had no idea where Quinn went but they were certain that he was safe, at least safer than he would be there. Now they had to find Vex, if Quinn had been there then surely he would be too - they had to find him and as they attempted to focus on their surroundings they felt another tug at their chest and they were on the move once more.
Heartless attacked from time to time, large groups of smaller ones and on occasion larger ones with sharp claws who were nimble and fast - but Gray's magic did not fail them and they powered on getting closer to where there seemed to be a large gathering of massive Heartless - watching something. A figure cloaked in black was pressured back against the jagged dark rocks that made up this land, defending themself against the frenzied attack of a lone heartless. As Gray got closer, following the connection they knew to belong to Vex, they realized that it was not a Heartless attacking the figure - but Vex, cloaked in darkness and attacking with an animal-like rage. Then, Gray realized that the figure their friend was fighting was that woman from the caves. Without thinking they joined the fight, summoning a lance made of metal and ice to block an attack that would surely have hit. Gray's eyes narrowed as they recognized the weapon as a keyblade and threw the woman back as Vex rounded on her again. The fight did not last long, with Gray's appearance the woman was quick to put as much distance between herself and them as possible and escape - clearly injured from the fight with Vex. With the woman gone, Vex rounded on Gray. There was so much fury rolling off him that Gray was struggling to figure out if the rage they were feeling was their own or if it was his.
"Vex, it's me. She's gone now, but we'll find her. Just take a breath, you need to calm down."
Words were not getting through, however; and Vex attacked, claws and fangs sinking into Gray as they made no attempt to dodge or fight back. Instead, Gray wrapped their arms tightly around Vex even as their friend clawed and tore at them.
"It's okay. I know you're angry, I am too. It's okay. I'll stay here with you until you calm down."
Darkness crept in from the corners of Gray's eyes. They felt light headed and numb but slowly Vex stilled in their arms and they could feel a hand against their cheek as once more the darkness gave way to warm skin. Gray squeezed tighter as the magic flowed through them one more time and Vex also vanished and then the darkness took them.
It was impossible to tell how long Gray had been out, but when they came to they were crumpled on the ground with a thick shell of ice surrounding them like a sphere. They were sore, but felt rested and their strength had returned to them again as they picked themself up. That woman was somewhere in there too, they could feel it - no matter how long it took or where they had to go, Gray would find her.
So they began their chase, a game of cat and mouse. They tracked the woman through the darkness, fought her, some they nearly one and some they nearly lost but they kept chasing her until eventually the woman attempted to make her escape through a portal and Gray managed to grab ahold of her just in time to get pulled through. They blacked out again when something heavy cracked against their skull, but later when they woke it was to sunlight. The land around them was unfamiliar, but there was color and light - Gray was free, but no less determined to chase the woman who had taken so much from them to the edges of existence.