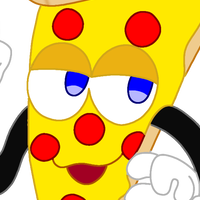 Profile
---
"What time is it? Me time! Lol get it, cause I'm a pizza slice? No? ... Alright then -w-"
Look at em, look at em go! 
PT is connected to two characters in different ways (cuz I couldn't make up my mind lol) as somewhat chill laid-back voice of reason with a lil bit of humor
PT is a sidekick to Fastfood and even though he's a demon of gluttony, Fastfood hates having PT around. No matter how many times Fastfood eats him, PT somehow appears beside him the next moment completely fine.
With Pizza Party, PT is more of an illusion of his mind that appears sometimes due to all the junk he eats. If Pizza Party is having trouble with something PT usually pops up to give somewhat good advice?