My profile and character sheets make use of custom CSS. Please visit
your display settings
and enable Custom CSS to view this profile as intended. I take care to ensure my pages are accessible, there will be no flashing colours, small text, or otherwise inaccessible and eyestraining styling. If there is a problem,
please let me know
and I will fix it.
Harrie
They/She • 1996/🦀 • White • Disabled • TME Lesbian
BEFORE YOU INTERACT
Je parle un petit peu français, mais c'est mon langue seconde et je ne suis pas couramment. Si vous voulez parler en français, j'essaierai mon meilleur.
My characters are created for my own personal projects, none of them are for sale nor are they free for use.
You may not use my artwork for your RPs. If you want to use my art, commission me.
My commissions are open, but my health limits my work capacity so I only take a couple at a time. If you're interested, you can be put onto my waiting list!
If you send me a message, please be upfront about what it is you are messaging me about or I am unlikely to respond.
I am uninterested in roleplaying with strangers.
I do not tolerate freaks ♥
ABOUT ME
Hi, nice to meet you! I'm Harrie, I'm a chronically ill gnc lesbian and I live in the UK. I'm a comic artist and author, and much of my time is focused on working on Heart of the Storm and preparing it for release. I have also dabbled a little bit in game dev, and would one day like to explore it a little further—I'm just currently a little busy focusing on comic work.
Diosmaden is the name of the world my stories are set in. It's not a particularly elaborate setting, I just wanted a world where monstrous fantasy creatures were as common place as things like elves and dwarves. I was a big fan of dragons as a kid, and those 00s anime drawings of half demon half angel girls and who would I be if I didn't use my creative skills to cater to the dreams of my 12 year old self? So you'll see a lot of that.
ABOUT MY PROJECTS
My primary project, as previously mentioned, is my comic Heart of the Storm. But it's not my only project! I've also a couple of stories with my friends, and a couple of game ideas.
Learn more!
Code by AviCode
Latest Bulletin
---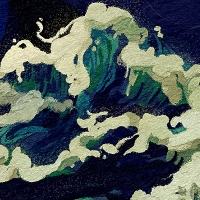 Hii! Finally got chance to sit down and set up my itch.io storefront :) To celebrate, there's 10% off everything until tomorrow! The sale has now ended!
Recent Characters & Designs
---