---
"Oh, my father! ...Well, dad. But I call him my father. He's...um... I like his leaderliness. And the fact he helps a lot. WHAT I CAN'T STAND. IS HIM BEING SO SAPPY THAT HE EMBARRASSES ALL OF US. UGH."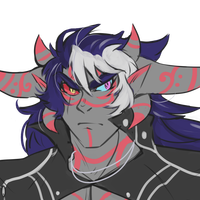 ---
"One of my children, she's a good girl! I know she left to see the world and all...but I can't help but worry. But honestly, it's a good thing she's learning how to stand on her own two feet. Though if I see her again...I hope she has a boyfriend or girlfriend. So I can show pictures of my baby girl to them!"
---
"I'm apparently one of the few people that know Olivia's real self. I called her out on her bs...and she seemed relieved before really letting me have it. And she's been a spoiled brat ever since. Honestly, I don't mind, she should be her true self."
---
"Zelly! I like her, she's got a lot of sass! And we fight a lot but honestly it helps build things up! I get to be myself around her and it's so freeing. She also told me why she left her home, calling it even for knowing about my true self. Honestly...it's nice. Not keeping secrets. Still, she better not make me mad or I'm going to kick her!"
---
"Oh, twin! She's nice, always inside though. I prefer outside. I dunno how that happened. I guess we're like yin and yang? Or just opposites? Opposite twins, being born together...heheheheheheh, sounds like an old friend, no? I don't mind this. Hey, twin! Let's keep playing, shall we?"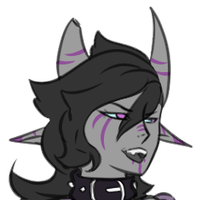 ---
"Twin. Let's just say she has an easier time. Ergh, a way easier time, why do I hide? Ever since I remembered a lot of things and thought about them...ugh. ...This place is not safe, but she is. Lucky. I better hide even more."
---
"Oh, a priest? Reminds me of someone in the past I met. He was nice. ...Oh geez, my methods? Uh. Okay. You're a legit woman right now I- /wheezing. ...Oh god what do I do she's hot why can I not change pronouns but /wheezing let me just eat you. ...OH WAIT GOD NOW IT'S MY TURN CRAP."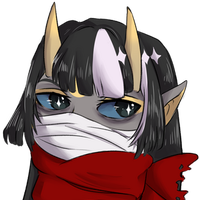 ---
"Oh, an instructor. Of the body? You prefer that? Hahahahahaha, I see your methods. I quite like them, shall we talk more? Let me learn more, fill me up with your words...NOT LIKE THAT. OH GOD NOT AGAIN. SORRY. UGH. Let me explain..."
---
"You really are sad, you know that? Geez, here we go again...at least you're still nice. You always were...oh man you're shying away again. You know what? SHOPPING."
---
"One of Roarkar's kids. She's sweet, very gungho. I was always an introvert, I preferred to be by myself. ...You really do like to drag people into your messes, huh? Kinda like my twin. ...Hahahahaha, died at birth, how about that? I've always been missing him, since the day I was born...anyway, yeah, fine I'll be dragged. I won't like it though."