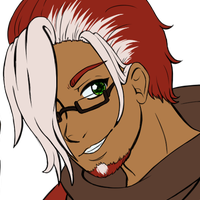 The One Who Howls Under the Moon
Hello! The name is HowlingCat. Most call me Cat or Howl for short. I'm your average 25 year old nerd that is fond of OCs and constantly creating them. While a good chunk aren't on the site, I hope the ones you see interest you in some way or another. In terms of the things I like, I'm fond of the Tales of series (Vesperia being my fave), Pokemon, Persona 5, mythology amd some other things. Regardless, why don't you check out my characters? Don't be surprise if you see several half-completed profiles as writing profiles can be a pain for me to focus on. If you're ever curious about a character and their story, don't be afraid to toss me dm. I'm fond of ramblings about my characters! I go by any pronouns of your choosing! A good chunk tend to use she/her or they/them for me.
As a note, credit for the pic used to my header goes to Phil Botha on Unsplash.
Code by AviCode
Recent Characters & Designs
---