---
A student of his at Heaven College who he sees potential in, in spite of his personality. Not that there's anything wrong with Bonnie, it's just... what is a meme?? Why does he keep talking about them?? Jing doesn't understand half of the things he says, so he just tries to nod in understanding. But there's really something there. He can feel it. Something in him...
---
One of his primary teachers at Hell College, given that Bonnie's going into the support class field. Bonnie thinks he's pretty cool even though he's not much fun... he's like a grandpa who doesn't understand anything new but gives you hard candy and pats you on the head anyway. Also his hair is pretty much the coolest. they're totally best friends in puzzle and dragons it's canon
---
A student of his at Hell College who's proven to be... difficult to work with. Her personality is guarded and cold, making her hard to reach. She doesn't work well with others, which could become a problem if he doesn't break that habit. Still, she has an enormous amount of raw potential...
---
One of her professors at Hell College. She doesn't really have a problem with him or anything, he's fine, honestly a really good teacher, it's just that... ugh... whatever.
---
The catalyst that led to his fall from Heaven. Istra is a reminder of what he let happen and what he mustn't allow to happen again.
---
Jing can understand his suspicion and distrust and accepts it. He will not try to change Yenzhal's ways and respects his opinions, however firmly he disagrees with them.
---
The fact that he was allowed to enter campus, much less become a professor absolutely disgusts him. Angels have no business being at Hell College, and his presence is just another reminder of how far Hell College has fallen.
---
A Hell College graduate who was present when Jing first fell. He's good company and didn't judge him for being an angel, and he's glad to hear that he's returning to Hell College after so long.
---
An interesting case. A Heaven College professor who betrayed the Overkings and fell to Hell... he gave Zhirael a lot to think about. If that was the case there, then it only seemed naturally that back home Heaven wasn't a single cruel entity... it was likely that there were many angels being oppressed and manipulating into allowing their superiors to do as they pleased, and if that was the case... Jing gave Zhirael all the more reason to return to his home planet and set things right.
---
A fellow professor at Hell College. She seems friendly but he... doesn't quite understand her. She's very much his opposite, so interacting with her is rather daunting.
---
One of her fellow professors at Hell College. He's a bit of a stick-in-the-mud, but that makes him fun to tease! She'll get him to loosen up one of these days! He's quite the intriguing person.
---
She envies him. If only she was more powerful, then perhaps she too could have...
---
A former co-worker of his at Heaven College. They were good company and he understood them in many ways, but he understood why they stayed behind. Someone had to. Someone there had to care.
---
A former co-worker of theirs before he left for Hell College. Remaelius doesn't blame him. They understand his reasoning very well, painfully well. They hope they'll meet again one day, when things are back to the way they were so many years ago... but for now, Remaelius' duty lies with giving Heaven College little glimmers of its former glory.
---
A student of his at Hell College. He's unaware of her connection to Heaven College, but if he were to find out he'd do everything in his power to convince her to just stay at Hell College. What she's doing is too dangerous.
---
A professor of hers at Hell College. He has a lovely color palette! What? Him as a person? Oh, that's fine, too.
---
A student of his at Hell College. He's kind but determined, meek but willing to stand up for his allies... Jing sees a lot of potential in him, whether or not Dicro himself does.
---
A professor of his at Hell College. He seems unusually calm, peaceful, and virtuous for someone who works at Hell College... not that he's complaining, of course! It's nice to see that even kindhearted people have a place on campus. It gives him some hope for himself.
---
Pff, who needs support classes? Aesie is convinced all you need is offense! Everything else is pointless if you get in a good, hard strike!
---
Though Justine is perhaps a bit too impulsive and naive for her own good, Jing likes the idea of a Justice Club and has sponsored it to make it official. He hopes she'll do good work.
---
Jing is one of the few teachers on campus who seems to really support what she's doing. Justine appreciates his efforts to help her! Not that she needs any help, of course!
---
Lureus is... difficult for him to manage. There's quite a bit of violent energy to reel in, even for a Hell College student. Still, in some ways he's easier than others, and as time went on he became easier to teach. Seems Poe was a good influence on him...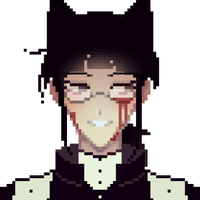 ---
Jing's a good teacher and all that, but Lureus still has trouble grasping the merits of Not killing people you fight. If they just respawn later, what's the big deal? Not like you're risking losing a playmate!
---
Chaurus was always a favorite student of Jing's, a shining example of demons never being all bad even despite their fearsome appearances and worrisome habits. He was a shining star and always helped out his fellow students when they were struggling... Jing can't help but see a little of himself in Chaurus and is happy he still has some presence around campus.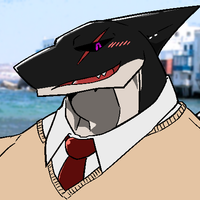 ---
Jing was always Chaurus' favorite professor - don't tell Ignis! But they just see eye to eye on so many things, and it's fascinating having the perspective of an angel at Hell College. He considered seeing if he could get a role as Jing's TA, but he was always so busy with the Student Body President thing and his training... but even now that he's graduated he's always willing to lend a hand if he needs it!