Iso
@Isoprene
26 she/her april 10th
My name is Iso, and OCs are my passion! Also water, monsters, puns, burgers, exclamation points, and loving my gf, but mostly OCs.
Twitter
Deviantart
Tumblr
OC Blog
Curious Cat
Cool Things
Drawing any of my characters, especially ones in this tag or this tag!
Thanking me for favs/watches in or out of character, though I don't usually respond to these!
Commenting on my characters and bulletins, though again I'm not always good at responses!
Favspamming characters/images - I don't mind notification floods!
PMing me or commenting on my profile with any questions you have about my OCs, my threads, etc.!
Making sections/tables inspired by or based on the ones I've made for my profiles.
Uncool Things
Drawing any characters in this tag for art games, since their designs are WIPs. Or they're Bunny, who's so simple it'd feel like a waste!
Drawing NSFW art of my OCs without my permission.
Referring to my OCs with fetishizing terms or slurs (like trap, loli, shota, etc.)
Stealing or heavily referencing my OCs in any way, including just using my OCs' art for icons, faceclaims, etc.
Asking for characters who aren't marked as being for sale/trade.
Being a jerk!! Be a nice person who cares about others. It's the cool thing to do!
What's up gamers, it's ya girl Iso and I have like a thousand OCs! Literally! So not all of my characters are uploaded here yet and probably won't be for a very long time! Aside from adoptables (since I like to prove my ownership) I don't like having incomplete profiles lying around, so I only upload characters once their profiles have been finished. I put a lot of thought and love into my OCs, so my profiles tend to be... long. Big time long. I also typically don't upload OCs unless they have avatar art I think is both accurate and shiny, but sometimes I make exceptions with OCs I really want to upload since I'm poor and art is expensive!
I really like making threads and showing off my OCs, so you'll probably see plenty of me around the forums! I'm pretty friendly and love being nice to others, so don't feel shy about interacting with me!
Reading about OCs is my favorite thing, so I typically reserve my favorites for characters with completed profiles to notify the creator that I took in all of their hard work! If I'm just faving for the design/art then I'll use image favorites! If you ever post a bulletin about working on profiles rest assured that I've read 'em, but I probably won't fav them until you've announced their completion! If you update things even further, I might even unfav and refav, whoa!!! I do that with literature uploads a lot, too. Individual chapter/collection favs when!!!
Princess RPG Group Profile
~50%
Fix Older Stats Tabs
*crickets chirping*
Latest Bulletin
---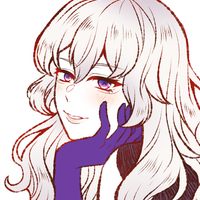 Fashionably late, I know, I really should've been here, like, a year ago. But better late than never, right? I'm sure you've all been feeling like you're missing something in life, but don't worry: I'm here now. Feels good, doesn't it? Like your life's finally complete? I do that to people, I know.
Anyway! I've brought you all a nice big gift, and it's called info about me! I'm sure you're all falling over yourselves trying to click that link, but don't worry: it's not going anywhere, and neither am I. So take your time! Pull up a chair, grab some popcorn, settle down by the fireplace for a nice long read all about my deepest, darkest secrets. Generous of me, huh?
Well, I'll be perfectly honest, it doesn't have all of my deepest and darkest secrets. Just a couple. There's more, but [it's not time yet]. You gotta work for that info, you know? Dig it up yourself. Don't worry, though, I'll keep you updated. Those updates will trickle in, I promise.
That's all I have to say! But you'll be seeing so, so much more of me, rest assured. For now, though, why don't you [give my profile a read]?


---

...Ahem.
It's taken me a hot minute, but Orchid finally has a profile! I say finally because Orchid's got a bit of a story. He hails from a little thought I had over 5 years ago about if Dicro - my arguable main character at this point - hung out with his pal Ignis a little too hard that I wound up making a reality. Shortly afterward, though, I started thinking harder on it, and the spoiler gang seemed so eager to flesh out this whole En2rety thing that one thing led to another and lil ol' 2cro got all hot and evil. Then a plot developed and soon enough there were plans for the future...
...The far future. It took, uh, 5 years and like three site-hops before things finally progressed for enough for me to reveal 2cro's true nature as Orchid, at long last free to share my emojis and funny memes with the rest of my friends. And lemme tell ya, I'd never felt more free in my life than that moment. Ah, memories...
It's been about a year now (the anniversary of the reveal was August 24th so I would've made this thing a lot sooner if I'd remembered whoops), but I finally mustered up enough spoons to crank this beast of a profile out. He was easily at the top of my list of profiles to make, what with being the most important character I have RP-wise and someone I talk about a ton. He's easily one of my favorite OCs if not The favorite, so I'd appreciate it if you gave his bio a read!
I have a story involving him I wrote not too long ago (read as: July apparently, wtf is time), but I'm thinking I might try to crank out a mini bio for Astrid before I upload it since they're the only other character involved. Would also be nice to let Orchid's profile settle in first, too, since it's probably helped by having a little background knowledge. We'll see, though! I already feel like writing another story too so who knows where this weekend will take me!! (inb4 i write nothing else this weekend)
Uhhh no other big updates really, I rly need to be active places but y'know, life and fixating on RP and stuff. Hope you're all doing well!
Recent Characters & Designs
---
Recent Literature
---
Authors
Published
1 year, 2 months ago
---
Mild Sexual Content
People kind of vaguely mention sex and genitals, but there's no Actual explicit content.

---
The Hell College Media Club discusses an unusual internet thread, eager to turn it into their next front page hit. (2019)