Iso
@Isoprene
27 she/her april 10th
My name is Iso, and OCs are my passion! Also water, monsters, puns, burgers, exclamation points, and loving my gf, but mostly OCs.
Twitter
Deviantart
Tumblr
OC Blog
Curious Cat
Cool Things
Drawing any of my characters, especially ones in this tag or this tag!
Thanking me for favs/watches in or out of character, though I don't usually respond to these!
Commenting on my characters and bulletins, though again I'm not always good at responses!
Favspamming characters/images - I don't mind notification floods!
PMing me or commenting on my profile with any questions you have about my OCs, my threads, etc.!
Making sections/tables inspired by or based on the ones I've made for my profiles.
Uncool Things
Drawing any characters in this tag for art games, since their designs are WIPs. Or they're Bunny, who's so simple it'd feel like a waste!
Drawing NSFW art of my OCs without my permission.
Referring to my OCs with fetishizing terms or slurs (like trap, loli, shota, etc.)
Stealing or heavily referencing my OCs in any way, including just using my OCs' art for icons, faceclaims, etc.
Asking for characters who aren't marked as being for sale/trade.
Being a jerk!! Be a nice person who cares about others. It's the cool thing to do!
What's up gamers, it's ya girl Iso and I have like a thousand OCs! Literally! So not all of my characters are uploaded here yet and probably won't be for a very long time! Aside from adoptables (since I like to prove my ownership) I don't like having incomplete profiles lying around, so I only upload characters once their profiles have been finished. I put a lot of thought and love into my OCs, so my profiles tend to be... long. Big time long. I also typically don't upload OCs unless they have avatar art I think is both accurate and shiny, but sometimes I make exceptions with OCs I really want to upload since I'm poor and art is expensive!
I really like making threads and showing off my OCs, so you'll probably see plenty of me around the forums! I'm pretty friendly and love being nice to others, so don't feel shy about interacting with me!
Reading about OCs is my favorite thing, so I typically reserve my favorites for characters with completed profiles to notify the creator that I took in all of their hard work! If I'm just faving for the design/art then I'll use image favorites! If you ever post a bulletin about working on profiles rest assured that I've read 'em, but I probably won't fav them until you've announced their completion! If you update things even further, I might even unfav and refav, whoa!!! I do that with literature uploads a lot, too. Individual chapter/collection favs when!!!
Princess RPG Group Profile
~50%
Fix Older Stats Tabs
*crickets chirping*
Latest Bulletin
---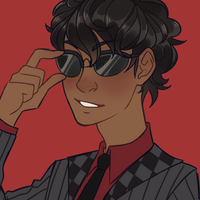 Got excited about my layout tweaks and wound up scrounging up some spoons last night/this morning to make another profile! Took a while to decide on someone, but I wound up picking Deius since he's got nice art, not too long of a profile to write up, no spoilers to awkwardly write around, no details I'd have to BS on the spot, is a main character in his setting and thus well-deserving of a profile, and not too difficult to pick out a jam for! He's a character I'm pretty fond of, so give him a peek!
...Realizing the poll on my last bulletin foreshadowed this. Whoa. The power of spaghetti...

Recent Characters & Designs
---
Recent Literature
---
---
Explicit Violence
(kinda spoilers) There's an extremely brief - maybe a paragraph long - section containing strangling, drowning, and blood that comes essentially out of nowhere and is gone as quickly as it appears.
---
Orchid and Astrid go to the beach. (2020)