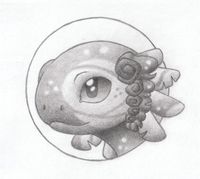 Basic Info
---
Profession

Kid of fluctuating luck
Profile
---
Personality
Kind, sociable, trusting, obedient, sensitive, shy.
Appearance
Flight: Lightning
Primary: Caribbean Starmap
Secondary: Teals Constellation
Tertiary: Phthalo Glimmer
Eye Type: Lightning Unusual
Length: 1,53 m
Wingspan: 1,30 m
Weight: 24,89 kg
Life
It's not known where exactly Beasa is from, as her unhatched egg was one day found by Painter. The egg had apparently been snatched from its nest by a River Flight, but then some sort of accident had occured and it had left the animal dead while the egg had miraculously remained unscathed. Painter didn't think much about it when she took the egg with her. She eventually arrived to the Seafoam Clan when it was about to hatch and in the end the clan became a permanent home for both her and the newly hatched Beasa.
Very soon it started to become apparent that the incident with the River Flight had not been just an isolated case. Wherever the sweet little hatcling went she seemed to spread both weirdly good and weirdly bad luck around her. Beasa doesn't do it on purpose and she's mostly unaware of the whole thing, so no one really blames her for it. The current assumption among the clan is that her egg was subjected to some sort of luck spell when she was still in it. It's not currently clear if the effect will wear off in time, but thankfully her adoptive parents love her dearly despite her getting their belongings constantly broken without even touching them.
Tidbits
About the character
Created in 2021.
Beasa was received as a gift in a Secret Santa exchange. I spent several thousand gems while trying to get her Unusual eyes with Scattersights - only a week before all of the individual natural eye type vials were released.
She was the winner in The Pelican Post's Best Permababy competition 13.12.2021.

Original character info can be found here.