♦ Circlejourney ♦
Singapore ♦ 18+ ♦ they/them
I'm just a person with a passion for stories and art. I write the web novel
Revolving Door
and make
comics
. Most of my major projects and characters are featured here!
Latest Bulletin
---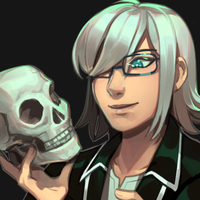 Hi, I completely missed that I haven't updated my TH in months, but I promise there's a good reason!
First off...I'm currently drafting a PhD application, mainly because I need a visa to continue staying in Australia, but also because research feels like a great fit for me. I'm making good steps there and may be seeing major progress in the upcoming weeks.
That means I'm also applying for a scholarship and there's a whole lot of pressure that comes with that...trying to ensure my application is the highest possible quality I could produce is daunting.
Third, I'm in the process of settling a new apartment. If all goes smoothly, I will be a homeowner soon! Of course, that means coordinating the move at the same time as everything else is happening, so I'm gonna be flat out for about 2-3 more weeks.
Creatively speaking, I've drafted the outline for Embers in the Snow (as I am calling it rn, but it may stick) and am gonna try to write it for NaNoWriMo this year.
EDIT: Also. I am avidly following the Olympics because I cannot resist. So much more exciting when you live in a country with actual medal chances. But also...those Dutch women cyclists 😩👌 I felt so bad about how they messed up without the radios
What's everyone else up to lately?
Recent Characters & Designs
---