- Circlejourney -

>18 ♦ Singapore ♦ they/them
I made a
code editor
with live preview for Toyhouse coding.
Welcome to my profile! I'm Circlejourney and I like making big, elaborate projects. I draw, write, make music and code, and divide my efforts between all those hobbies (though writing is where my heart lies). Toyhouse is mainly where I share project-peripheral OC content and do commissions.
Interesting facts about me? Hmm… I once wrote a 300,000 word MapleStory fanfic. I can write the periodic table from memory. I've never seen a snowfall.
Oh, and I also have an ongoing web novel titled Revolving Door.
See below for lists of my characters, and the projects they feature in!
One day I thought, "what if I wrote the biggest, most intricate story I could possibly conceive, in every single genre at once?" and this was the result, 6 years in the making and still about 10% complete. It's online: you can read it here!
Death is an international network of inefficient bureaucracies, in this multimedia project about occultism, demonology, and death mythology.
Meet Ruthenia, a high school kid who grew up on the streets an orphan. Her parents were rebels and heretics and martyrs, and it was the government that had them killed. And for Astra, a flying nation that loves its chains, the law must stay carved in stone, even when it gets in the way of survival. It's Bird Symbolism: The Novel.
Characters from projects with fewer than 5 characters.
Trades
Art comms
Code comms
Profile layout © Me
Latest Bulletin
---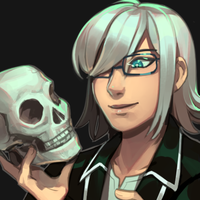 UPDATE: slots are taken now, thank you
Sorry guys I was focusing too hard on a WIP that I'm calling BroSpiderQuest... Anyway...
Commissions are open!
Currently, I have 3 slots open for the month of January! If I am able to finish them quickly, I may reopen again later in the month.
Art commission sheet | Music commission sheet
Note a couple of new rules:
If you are ordering more than one image/music piece with your slot, the total value must be $50 or less. 1 image/1 music piece commissions have no limit.
You can only hold one slot at a time. If you would like another one later, let me know and add you on my waitlist as soon as the current one is done.
To claim a slot, either PM me or comment below! If you don't get one, my waitlist is also open and I will be happy to add you to it 😊
Recent Characters & Designs
---