♦ Circlejourney ♦
Singapore ♦ 21+ ♦ they/them
Latest Bulletin
---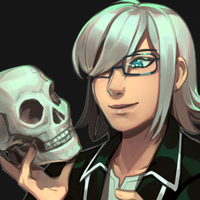 🎉🎉 Wow, when did I get 400 subs here? I'm pretty sure most people are here for code editor updates, but for those who stayed through the Offshore art spam, thank you! I'm gonna open spur-of-the-moment art trades, because I'm hungry for art but short on money this month lol. This is for mutuals only!
Offering:
Half / full-body art - solo, couple or 2 separate characters.
Pen sketch art style, including a solid/stock pattern/gradient background and some gradient shading.
Overall finish may differ depending on how much detail the character design has - the simpler the design the more finished it'll probably look! First sample is my idea of a rough finish.
Looking for:
2D coloured art
Like-for-like: same number of characters and size that you request, in whatever style you feel is equivalent to what's shown above!
One of the following (in descending order of preference):
Will keep this open until I feel like I've got enough. I'll accept almost everyone I think, but only if I can see that your gallery has art of the requested type (2D coloured half/full bodies). Comment below if interested and we can discuss! 
Oh and if you just want a character design in exchange for art and money, and wanna support me financially, my OTA is open 0:
---
Complete:
In progress:
Getting info:
Recent Characters & Designs
---